Yasmine Galenorn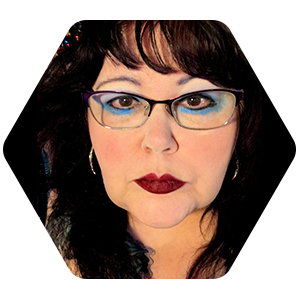 Fast Facts
When she was 31, Yasmine lived in a converted school bus and slept with a hatchet by her head.
She's been in the Craft for over 40 years and is an elder in the Pagan community.
Yasmine MUST have cats in her life to be happy.
"I collect teapots, daggers, crystals, tattoos (on my body), makeup, and bones. Good luck figuring me out!"
---
Yasmine is the NYT, USA Today, and PW bestselling author of numerous urban fantasy, paranormal romance, paranormal women's fiction, and paranormal mystery series. Note the theme: all paranormal! She's been writing since she was three, but professionally since 1996.
Her paranormal women's fiction series, Moonshadow Bay, was born out of her love for quirky towns, ensemble casts, ooo-spooky adventures, and the belief that life doesn't end at 40…50…60. And also, that love and adventure come in all shapes, sizes, and ages.
---